Firing up the BBQ is a quintessential part of our Australian lifestyle, best enjoyed in the great outdoors! When you first make the choice to try vegan, you'll find the traditional Aussie BBQ tastes even more delicious on a vibrant plant-based diet.
Forget about grilling plain vegetables, because these recipes will take your vegan BBQ skills to the next level. The following meal ideas will impress your fellow vegan mates, whilst also leaving your meat-eating guests satisfied (and maybe even a little hungry for more plant-based options!)
In true BBQ style, these five recipes are simple, colourful and packed full of smoky flavour:
1. Grilled pineapple tofu skewers with spicy mango BBQ sauce
Relish that summer feeling with a deliciously sweet and sour recipe! The tropical flavours of pineapple and mango are sure to impress even the fussiest BBQ guests. This recipe is also relatively simple to follow, involving only a handful of steps.
Make sure you prepare ahead of time though, as the tofu cubes need to marinate in barbecue sauce for at least 20 minutes. For the full list of ingredients and method, visit Snixy Kitchen online.
2. Garlic mushroom kebabs
If you're sticking to the skewered approach, these garlic mushroom kebabs will take any BBQ from drab to fab in minutes. Coming together effortlessly, this recipe requires a simple balsamic marinade, some mushrooms, garlic, and herbs.
Hearty grilled mushrooms will leave your guests feeling satiated, whilst demonstrating how flavourful vegan BBQs can really be! For the original recipe, check out Damn Delicious online.
3. Portobello peach burger
Burgers might be our favourite BBQ fare! Take yours to the next level with this simple recipe, incorporating BBQ grilled mushrooms and peaches. Juicy grilled peaches offer a tantalising contrast to mushroom, sweet potato, pea sprouts, tomatoes, spring onions, and avocado. Combining the bright colours of seasonal fruit and vegetables also means this stunning recipe will delight your Instagram-loving mates! Visit Green Kitchen Stories for the full-length recipe.
4. Spicy cauliflower steaks
Throw a couple of steaks on the BBQ – cauliflower steaks, that is! They're smoky, spicy, and mouth-wateringly delicious. This tasty recipe keeps it smokin' with paprika, chipotle powder, zesty lime and fresh coriander. Packed with a punch, these cauliflower steaks are bound to leave your guests asking for seconds! Check out The Kitchn for all the recipe details.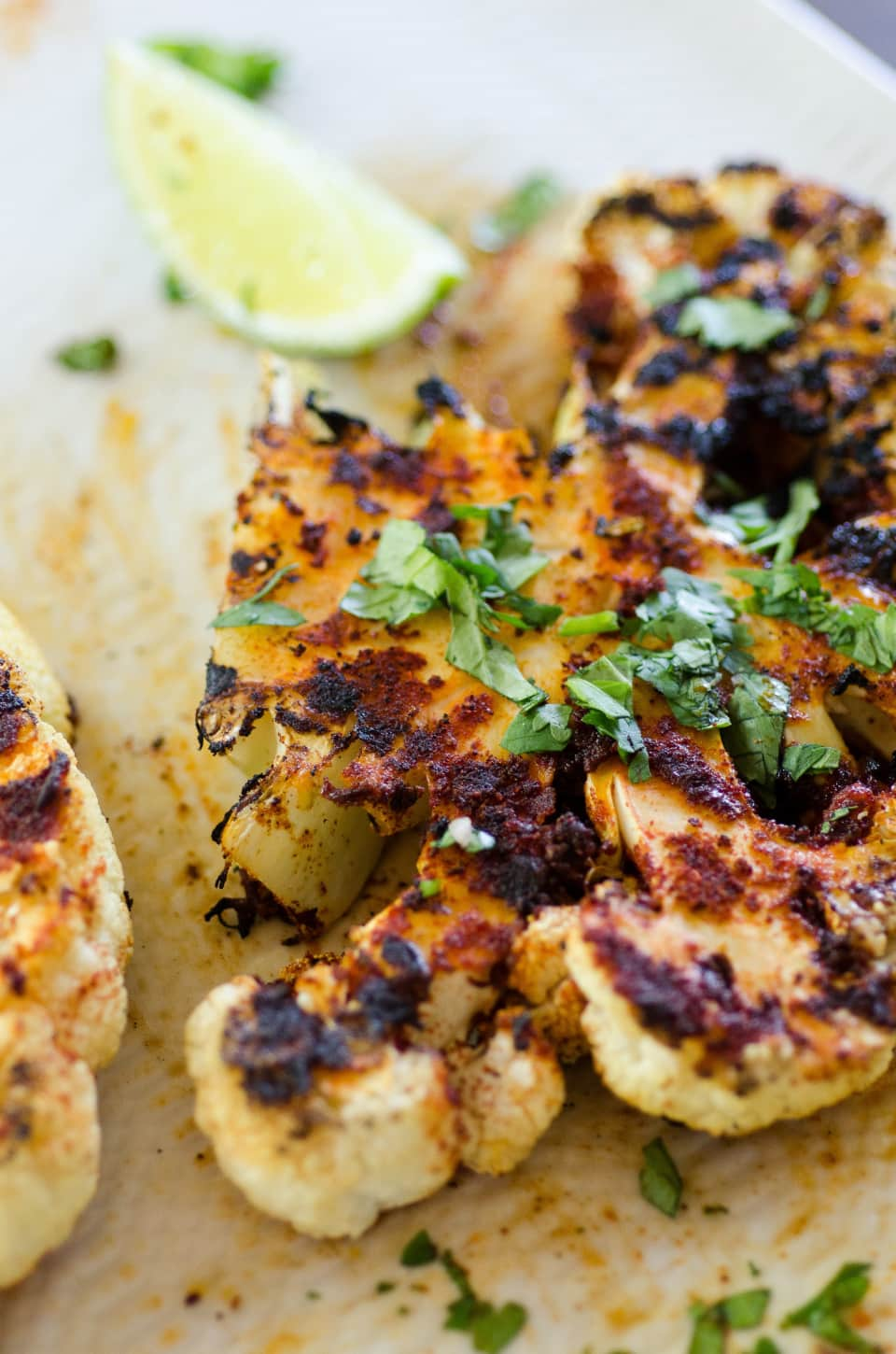 5. Coconut brown sugar glazed grilled pineapple
Did someone say dessert? Pineapple and coconut are a match made in heaven, and just looking at this tasty treat has us drooling! Substitute butter for vegan margarine, and switch honey for maple syrup or agave nectar – and you've got yourself a plant-based recipe primed for perfection.
Treat yourself with deliciously warm grilled pineapple chunks, topped with a sweet coconut glaze. Chef In Training has the original recipe and ingredients!
What are your favourite vegan BBQ ideas? Share your thoughts in the comments below:
---
Get the Vegan Starter Kit